Chicken piccata's robust lemony sauce juxtaposed with savory, crisp chicken is a delight to the senses. It's a dish you want to come back to over and over again for its bright flavor and luxurious mouthfeel.
When I picture piccata, I immediately think of an Italian method of pounding meat thin and serving with a balanced sauce. It's traditionally prepared with veal, but I always make it with tenderized chicken paired with a buttery, acidic sauce studded with capers; the sauce alone is worth memorizing for those occasions when you want to show off that wild fish or those farmer's market greens.
Technique Video: Poultry
The Merits of Caper Berries
Would you believe that I've had a jar of caper berries in my fridge continuously for 10 years? Mind you, not the same jar. I just habitually grab a jar as a fail safe. Trust me, you don't ever want to run out of caper berries in the middle of making chicken piccata!
What seasoned cooks understand intuitively is that capers and lemon will enhance savory food by counteracting the richness. We humans are complex, we want the rich flavors, yet we crave contrast. Capers add bitterness and sourness, as does lemon, making them among the best ingredients to add to savory foods.
If you want to create balanced and exciting flavors, try adding brined caper berries to Caesar salad or use them inside of fish-based burgers like these salmon cakes.
Some of the links on this page are affiliate links, which may pay me a small commission for my referral at no extra cost to you!
How to Make Chicken Piccata with Lemon Caper Sauce – Step by Step
Carefully halve large chicken breasts and pound until 1/4 – inch thick. This tenderizes the chicken while creating an even surface area for complete contact with the pan. Season generously with salt and pepper prior to dredging (see photo below for what "generously" looks like).
You can dredge the chicken directly into a bowl of all-purpose flour. If you are avoiding wheat, try an egg wash followed by fine almond flour for a gluten free alternative. Chicken is also a great protein to pan-sear if you'd like to skip the dredging step entirely.
Some of the links on this page are affiliate links, which may pay me a small commission for my referral at no extra cost to you!
Proceed to pan fry the chicken, then make the sauce using the same pan. Please note that you may need to clean the pan in between the first and second batch of chicken to avoid any burnt tastes and setting off the smoke alarm. *************(this is really important for deglazing properly)
Serving Suggestions
Serve chicken piccata on a platter with lemony sauce drizzled generously over herb infused mashed potatoes or broccoli rice for an elegant and easy presentation.
A sprinkle of fresh parsley adds a fresh aroma and vibrant pop of color. You may also add thinly sliced lemon so that people can increase the lemon flavor if they wish.
Top Tips for Perfect Chicken Piccata
To successfully pan-fry chicken, you need the right amount of oil, a hot skillet, and timing. Once the chicken touches the pan, don't move it around. It needs 3 minutes of contact with the heat to develop a crisp layer. You want the chicken to be a dark gold color before flipping.
Since you are working diligently to create a crispy exterior, you want to pair the chicken with the wet, thin sauce while hot just before serving. The longer it sits, the more the chicken will give way to the sauce.
More Chicken Recipes You Might Like
Is this your first time using wine to deglaze a pan? Since this sauce has a few layers to it, I'm wondering if you found the instructions easy to follow…let me know in the comments below. I love hearing from you!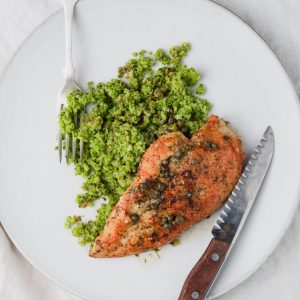 Lemony Chicken Piccata
Lemony Chicken Piccata involves pounding chicken breasts until thin and pan frying in olive oil for that signature crispy coating. Flavor layering white wine, lemon, butter, and capers creates a dynamic sauce for the chicken. See notes for adapting for vegan, paleo, keto, and gluten free diets.
Print
Pin
Rate
Ingredients
Chicken
2

large

skinless chicken breasts

halved lengthwise

salt

black pepper

1/4

cup

olive oil

extra virgin

1/2

cup

all-purpose flour, fine almond flour, or no flour

*
Sauce
2

tbsp

capers

1/4

cup

dry white wine

optional*

1/2

cup

chicken stock

1

lemon

2

tbsp

unsalted butter, ghee, or olive oil

fresh parsley

finely chopped for garnish
Instructions
For the Chicken
Pound the chicken cutlets on both sides until 1/4 inch thick. Season generously front to back with salt and pepper.

Preheat a large skillet with olive oil over medium-high heat.

Place flour in a large bowl and press 2 pieces of chicken into the flour on both sides. Shake to remove excess flour and place immediately in the hot oil. Pan fry for 3 minutes each side until gold and crispy (with an internal temperature of 160°F). Repeat with the remaining chicken. Set cooked chicken onto a platter while you make the sauce.
For the Sauce
Over medium-high heat, add the capers and let sizzle for 10 seconds. Follow quickly with the wine to deglaze the pan, scraping with a wooden spatula for 30 seconds. Add the stock, the juice of 1 lemon, and butter. When the butter melts and the sauce is simmering, sprinkle chopped parsley into the sauce and immediately spoon over the chicken.
Notes
Dredging Options: AP Flour, Almond Flour, No Flour
Option 1: All-purpose flour sticks to the chicken directly.
Option 2: For almond flour (paleo, gluten free), you should pre-cook the cutlets, then dip in an egg wash and then into the almond flour. Cook for 1 minute each side on medium heat to get the almond flour crispy (any longer and it may burn).
Option 3: Skip the dredging entirely if you want to cleanly pan-sear the chicken only.
Wine (Alcohol) Free Variation
You can make an alcohol free chicken piccata by adding a Tablespoon of caper juice or white wine vinegar to the pan. This acid will deglaze the pan in seconds and will add the characteristic sour flavor sans the alcohol.
Vegan Tempeh Picatta Variation
At the Natural Gourmet Institute, we made a vegan picatta using blocks of tempeh that we sliced into squares and steamed. There's no need to dredge the tempeh in flour, simply cook in olive oil until crispy and use vegetable stock in place of chicken stock.
This recipe is adapted from mostly plants cookbook.
Nutrition
Calories:
323
kcal
|
Carbohydrates:
16
g
|
Protein:
15
g
|
Fat:
21
g
|
Saturated Fat:
6
g
|
Cholesterol:
52
mg
|
Sodium:
222
mg
|
Potassium:
305
mg
|
Fiber:
1
g
|
Sugar:
1
g
|
Vitamin A:
192
IU
|
Vitamin C:
15
mg
|
Calcium:
10
mg
|
Iron:
1
mg