Why am I just now realizing the miracle of caramel powder? It's pulverized perfection that just casually greets your taste buds. Hello.
If you've spent any time on The Frayed Apron, you know I regularly write about caramel. There's this salted caramel ice cream, ricotta cheese flans, and salted caramel chocolate tarts.
Want to know the best part? It has to be used same day, so you can just start sprinkling it on everything. Go ahead and try it on ice cream, in your morning coffee, or this amazing berries and whipped cream with orange liqueur.
Some of the links on this page are affiliate links, which may pay me a small commission for my referral at no extra cost to you!
What is Caramel Powder?

One ingredient: sugar. That's all. Sugar gets caramelized into a liquid when heat is applied. Then you just grind it up and poof: caramel powder.
How to Make Perfect Caramel Powder
Heat the sugar in a skillet. Keep a close eye and swirl the pan (no need to stir). Wait for bubbles to form. It will turn an amber color within 5-6 minutes.
Pour it out onto a sheet tray. Other recipes tell you to pour it over foil (don't do it!) – it creates a burden for you later when you try to peel it up. As you can see, I tried it with foil and had to painfully separate it by hand.
Remove and break the hardened caramel into manageable pieces. You can pound it with a meat mallet or hammer.
Grind the hardened caramel in a food processor until completely fine.
Ta-dah! Now you have golden hued dust that also resembles beach sand that tastes like really light and airy caramel. It's a tiny bit like cotton candy, and it's naturally vegan and gluten free.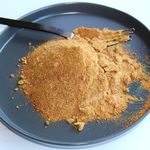 Caramel Powder
Caramel powder is like magical fairy dust that you get to sprinkle on ice cream, coffee, or fresh fruit. It's light and airy, yet deeply flavorful. You make the caramel by heating sugar in a skillet until it turns golden.

Print
Pin
Rate
Ingredients
1

cup

white granulated sugar
Instructions
In a small skillet, warm the sugar over medium heat until it turns to liquid. Shake (don't stir) very frequently and do not walk away. The sugar can burn easily.


Cook for 5-6 minutes until bubbles form and the syrup changes to an amber colored caramel. Pour immediately over a sheet tray. Allow to cool and harden. Leave overnight or use right away.


Pound into pieces and place in the bowl of a food processor fitted with a metal blade. Pulverize into a fine powder and immediately transfer to a container or use right away.

Notes
Caramel Powder will begin to stick together as soon as moisture is introduced so you will want to use it asap. A fine mesh strainer or sieve can help break apart the clumps within a few hours of making. Make Ahead Tip – you can make the caramel and store it in the hard sheet stage for up to 24 hours. Once it's ground into a powder, it's best to use it right away.
Nutrition
Calories:
96
kcal
|
Carbohydrates:
24
g
|
Sugar:
24
g
Thank you for being here! Did you make this recipe? Click on the star rating or leave a comment below. I'd love to hear how you got on. Connect with me @thefrayedapron on Instagram or Pinterest.