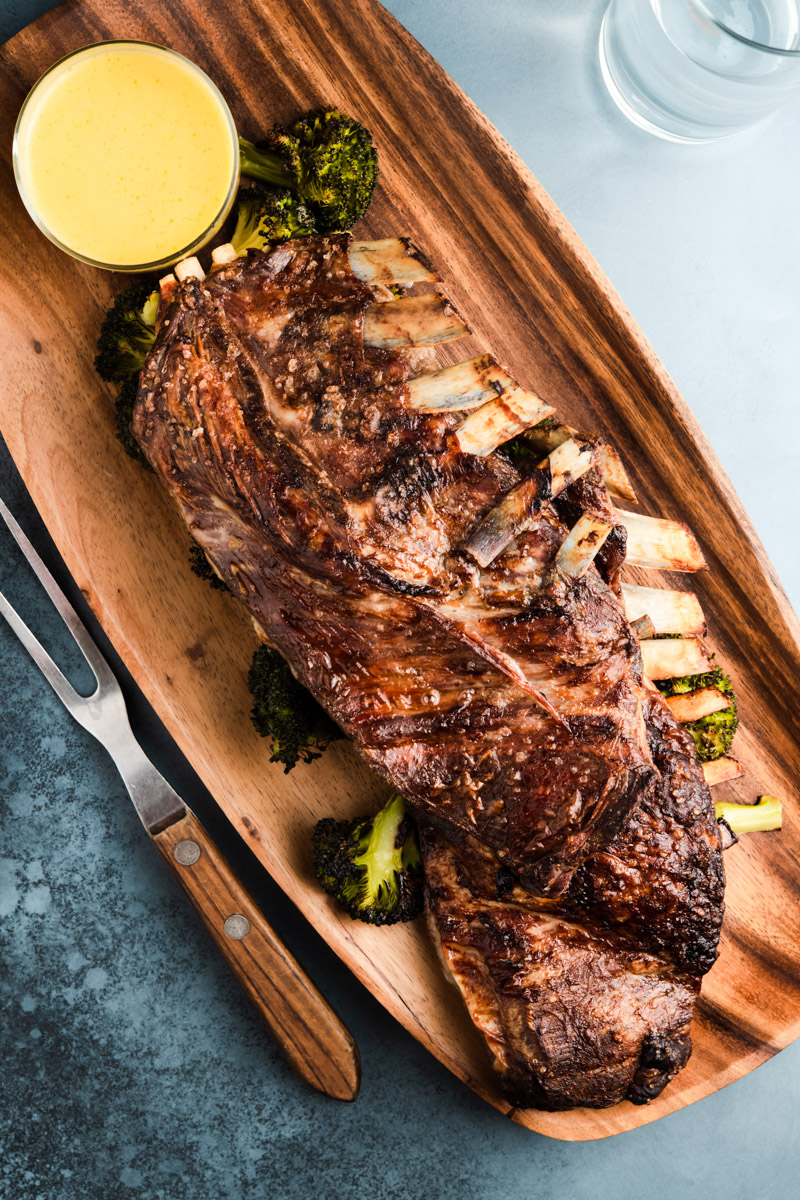 Lamb ribs are often demonized as too fatty. Well, move over baby back because lamb riblets = FLAVOR galore.
If you ever have the good fortune to treat yourself to the cut of lamb lower on the backbone, then honey, you better get yourself some lemons and garlic and make this recipe because it doesn't get any better than this.
For those in-the-know, lamb riblets are a rare prize. They're primal, unexpected, and relatively affordable. One bite and you can forget about cutting them into itty-bitty sections. You'll be too busy sitting at the coffee table eating right off the rack.
So, in the spirit of using the whole animal, why not experiment with something new? After all, unpopular cuts are often cheaper and more flavorful. Case in point, the time I barbecued short ribs and ended up LOVING LIFE. Well, these lamb ribs are the same. Big on flavor, maybe a tad chewier than you're used to, but so worth it in the end!
So real quick: what's the difference between rack of lamb and lamb ribs?
Lamb ribs are lower on the ribs (think away from the spine) and have less meat overall. They have more sinews and are often discarded. Rack of lamb is higher up on the ribs (near the spine) and contain more meat overall.
Rib Lessons: Low and Slow or Hot and Quick?
Familiar with beef and pork ribs, I wondered whether lamb ribs would take as long. Usually I slow cook ribs for 6 plus hours. With oven roasted rack of lamb, a thicker rib cut near the back bone, hot and quick is the way to go. Ultimately, I decided to cook these thin ribs low and slow followed by a brief, high-temperature finale for caramelization.
LAMB RIBS
creamy lemon-garlic marinade, roasting tips, and recipe
Best Way to Cook Lamb Riblets (Spare Ribs)
After looking at no less than 15 sources, I'm convinced the best way to cook lamb ribs is between low and slow and hot and quick because the meat needs time to get tender but you also need some hot, dry heat to melt the fat and develop a crust. This is why I've retested and updated this recipe to include a 3 hour bake at 300F followed by a 30 minute roast at 400F.
Do you remove the membrane or trim the fat from the lamb ribs?
When working with pork ribs, I often grab hold of the "silver skin" membrane with some paper towel and pull it off, but I opted to leave the fat and membrane attached. If you plan to smoke or barbecue though, I suggest trimming the fat and removing the membrane so the smoke can penetrate through.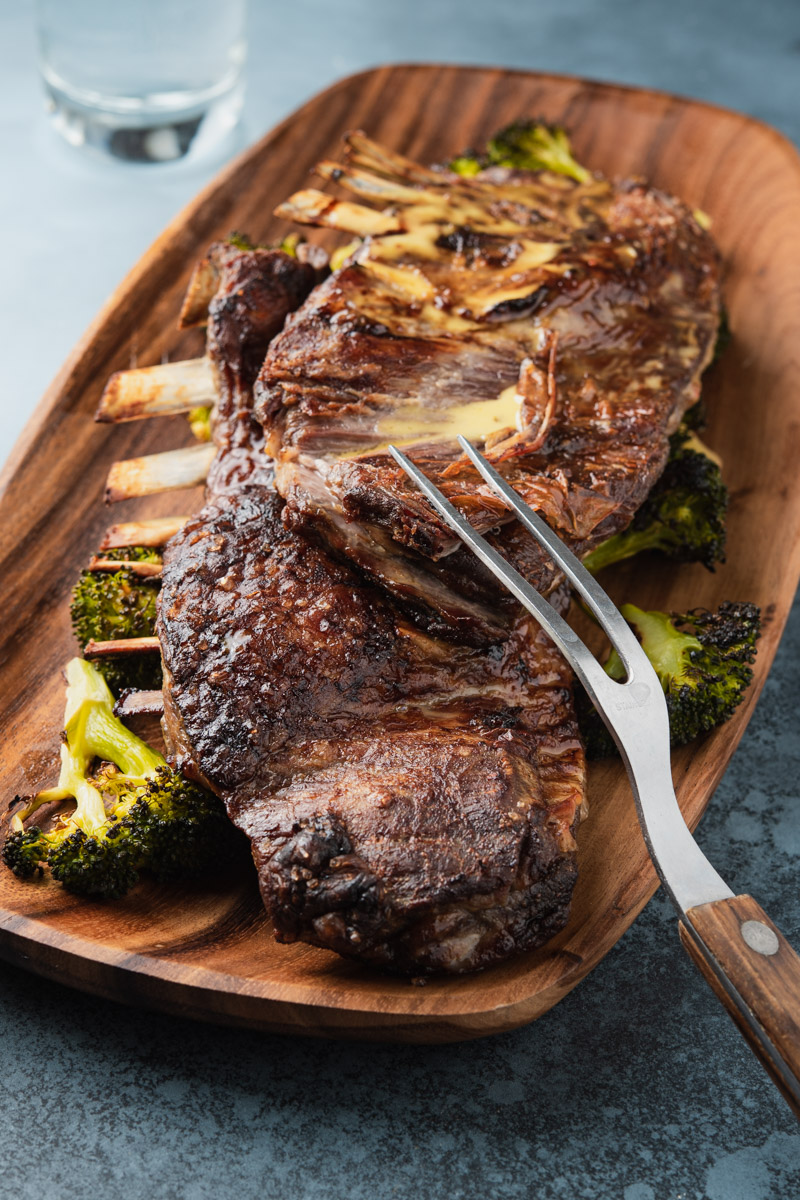 What I love most about these ribs are the little flavorful pockets of umami that is caramelized fat marrying with salty lemon garlic sauce. You may find yourself working your way around some fat pockets, but hey, fat is flavor.
More Low and Slow Recipes You Might Like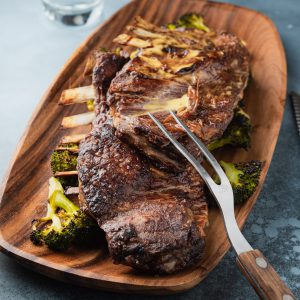 Lemon Roasted Lamb Ribs
Lamb ribs get marinated for 30 minutes in a creamy 5-ingredient lemon, garlic sauce then roasted for a savory, tangy crust and rich flavor.
Print
Pin
Rate
Instructions
Preheat oven to 300°F.

Pour half of the lemon garlic sauce over the ribs and marinate at room temperature for 30 minutes (or refrigerate overnight).

Season the racks front to back with salt and pepper and wrap individually with foil. Place on a sheet tray lined with foil for easy clean up and bake for 3 hours. Remove the foil and flip the ribs. Apply extra lemon garlic sauce and increase the temperature to 400°F. Roast for 30 minutes longer. Rest before cutting for at least 15 minutes. Serve with extra lemon garlic sauce.
Nutrition
Calories:
248
kcal
|
Carbohydrates:
1
g
|
Protein:
29
g
|
Fat:
14
g
|
Saturated Fat:
5
g
|
Cholesterol:
97
mg
|
Sodium:
1268
mg
|
Potassium:
388
mg
|
Fiber:
1
g
|
Sugar:
1
g
|
Calcium:
18
mg
|
Iron:
2
mg
Some of the links on this page are affiliate links, which may pay me a small commission for my referral at no extra cost to you!