I'm drawn in by mysterious drink names; "London Fog" conjures cozy images of frothy, hot drinks and misty mornings.
If you're like me, and in need of some fresh tea inspiration, you will surely love this Earl Grey-frothed milk latte. It's a rich, and somehow light, drink that begs to be sipped and savored.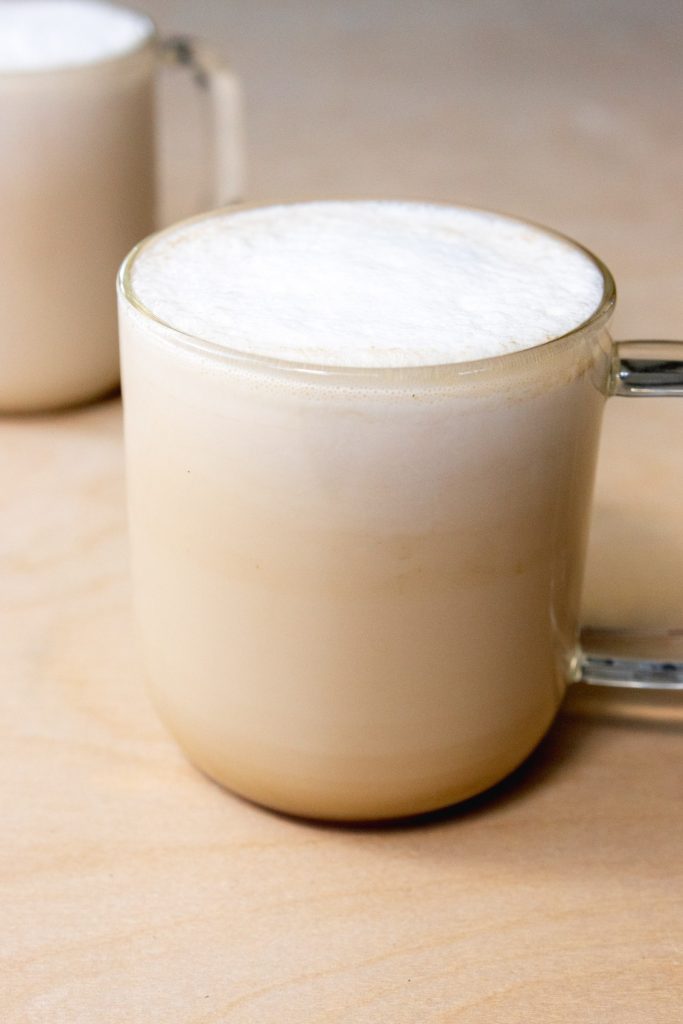 Unlike the popular London Fog latte which originates in Canada, mine gets a lovely floral flavor from steeped lavender (vanilla is more traditional). Divine!
I totally reveled in testing this one over and over. And, guess what?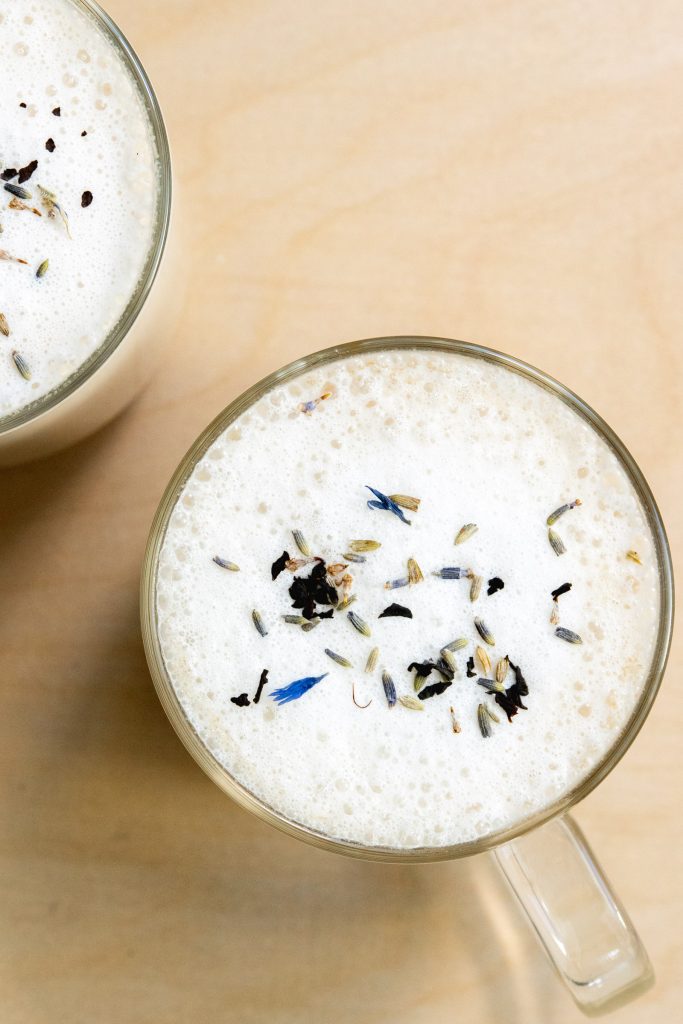 It's a good thing I did, because I found a ton of variation in flavor from one test batch to the next. I usually encourage you to play around with my recipes, but in this case, I think the proportions matter quite a bit.
What is a London Fog?
A London Fog is a drink that combines Earl Grey tea and warm milk. It's super easy to make but greater than the sum of its parts.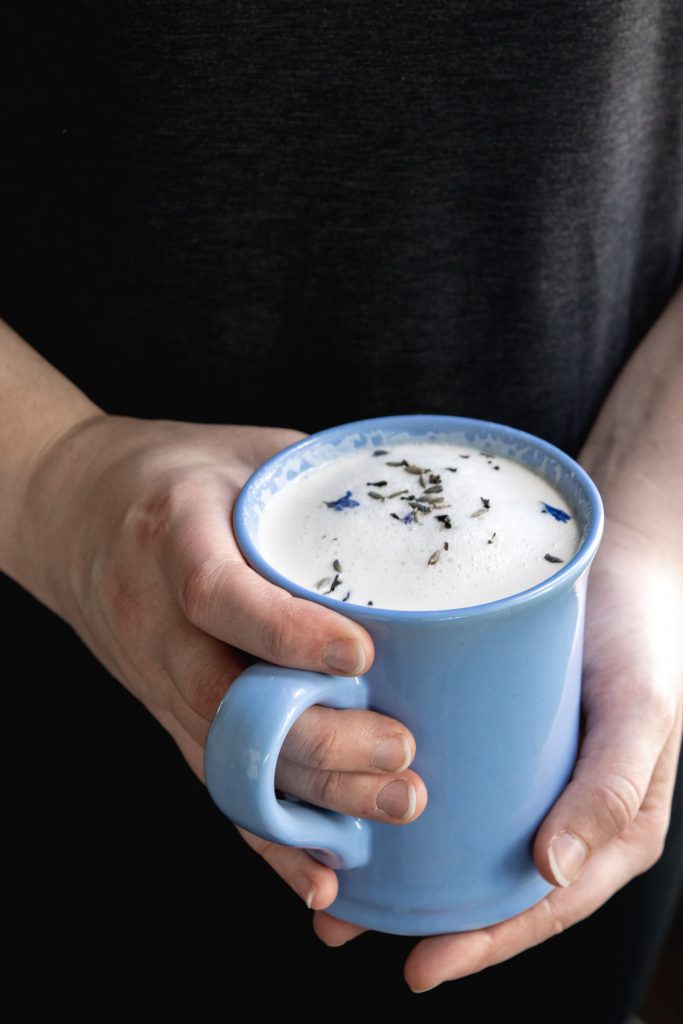 Here's what makes this London Fog SO GOOD:
a bold, sweet, and flowery cup – I steep dried lavender flowers along with Earl Grey Tea, which has notes of bergamot oil and edible blue cornflower petals (I like Tea and Company's Earl Grey Creme Tea and this decaf Bigelow tea for nighttime)
a smooth mouthfeel – instead of whole milk, I gravitate toward half-and-half, which holds its froth longer because of the fat. frothing half-and-half takes this drink to the next level. I do this step with a whisk, so there's no need for any special equipment, and it only takes a few seconds in a saucepan.
sugar – I like a good amount of sugar in this particular recipe because it brings the floral flavor forward and without it, I think the drink would be a bit boring
Ready? Let's make some tea!
How to Make an Earl Grey Tea Latte (Lavender London Fog)
Gather and measure your ingredients.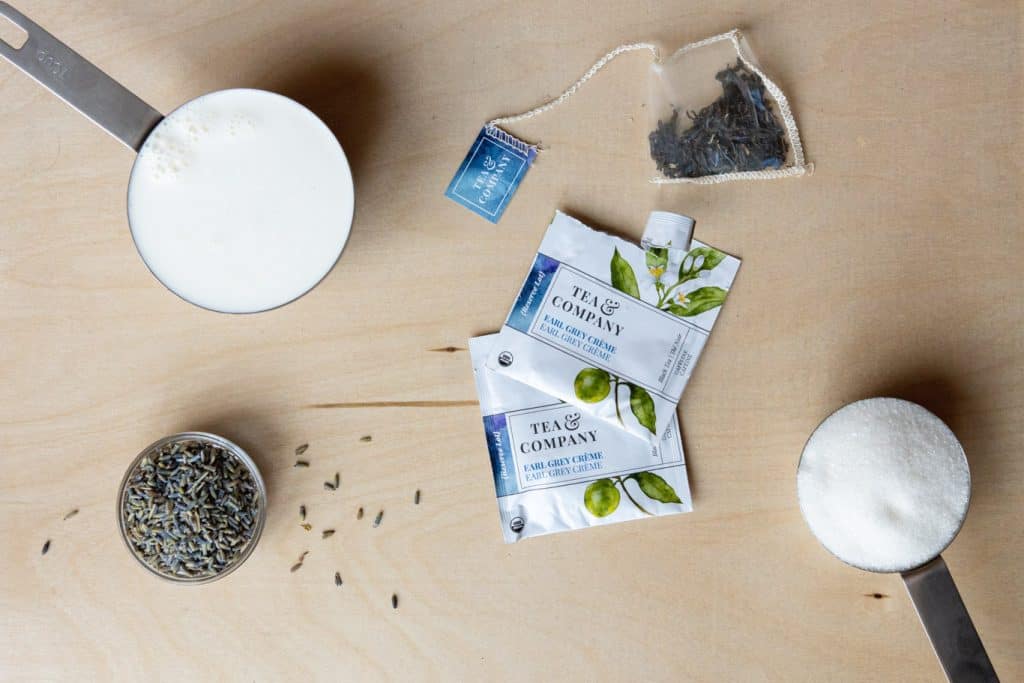 First, steep the tea (you want the water to be boiling hot). I buy both caffeinated and decaffeinated tea so I can enjoy this drink in the morning and evening.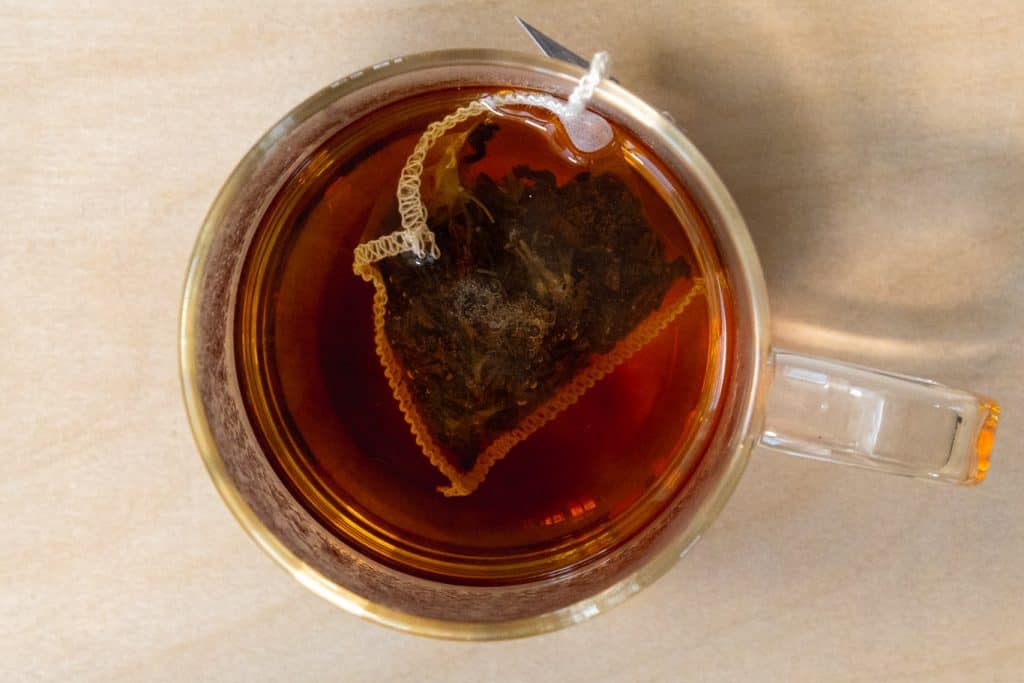 Then, infuse the syrup with plenty of lavender flowers.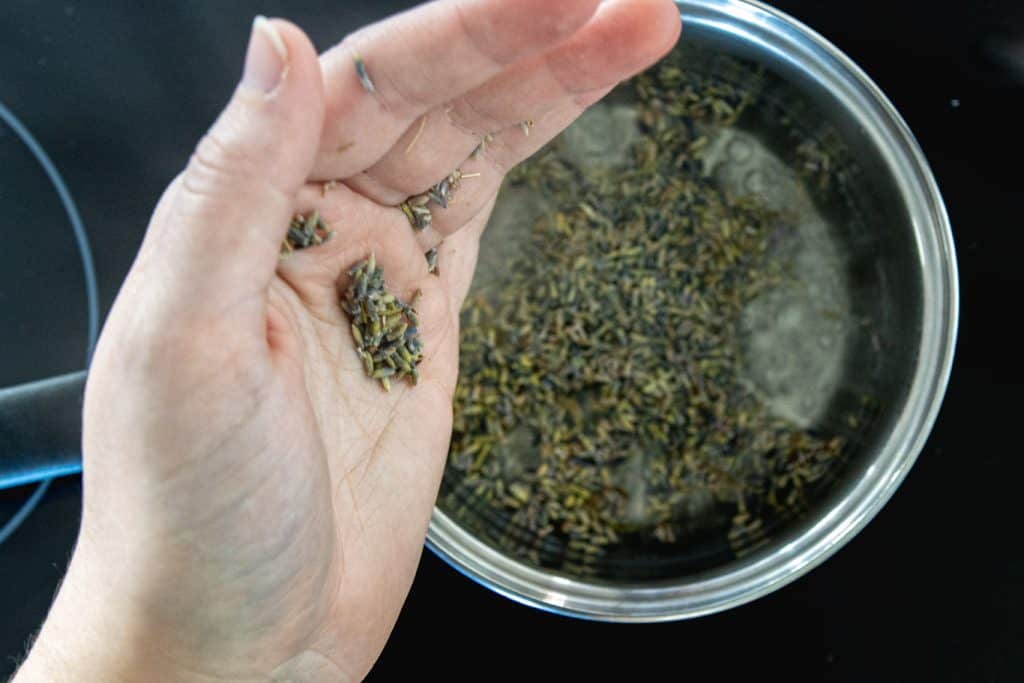 Combine the steeped tea, lavender syrup (flowers strained).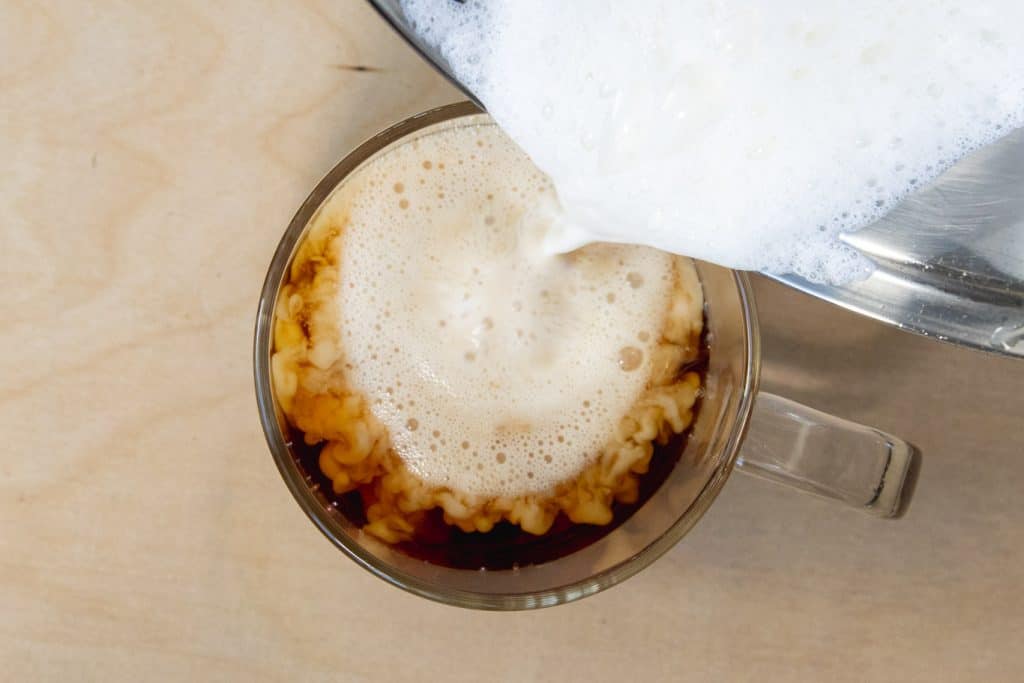 Froth the half-and-half: warm the cream in a saucepan and whisk vigorously for 30 seconds (about).
Ingredient Tip: It's important to avoid scalding the milk/half-and-half, which can happen very quickly. Try to just get the milk warm so it doesn't develop a skin.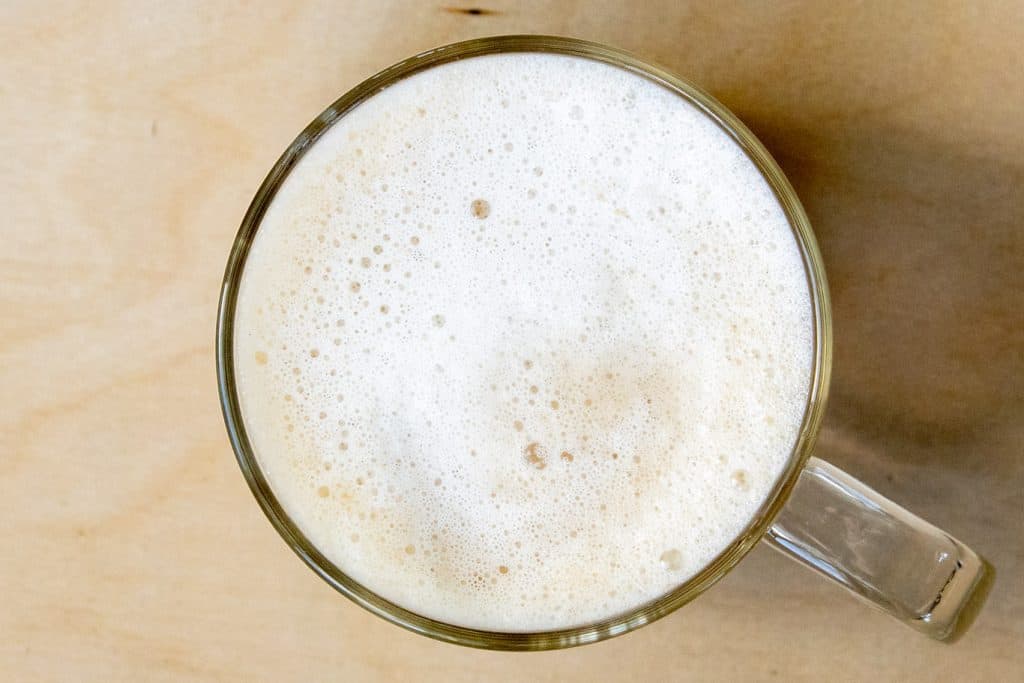 Once the tea is topped with foam, it's best enjoyed right away.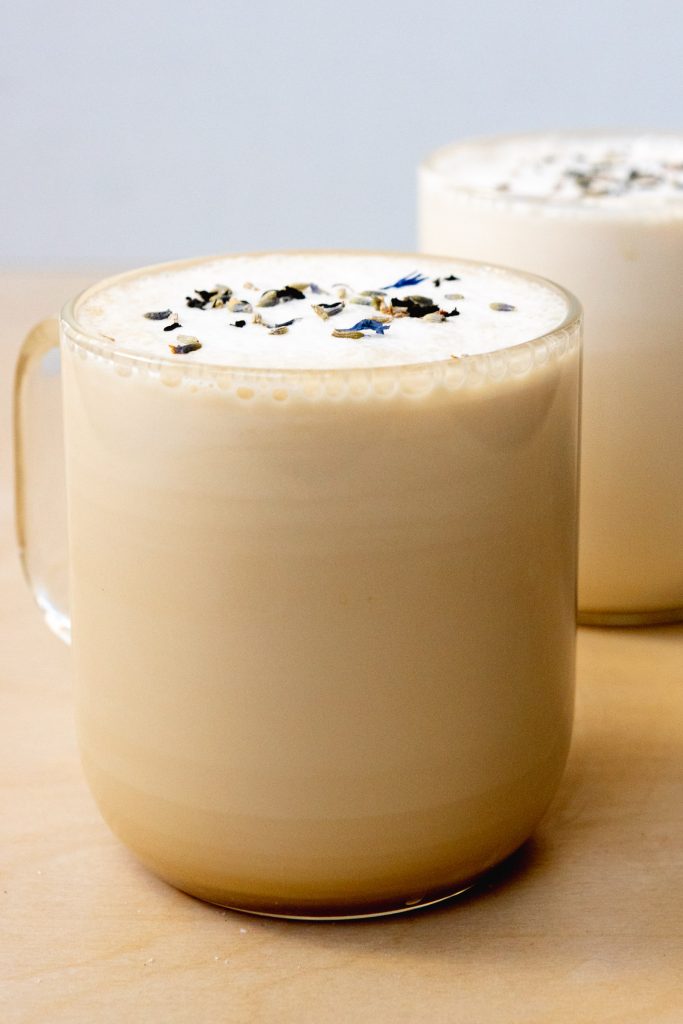 Do you feel drawn in by this frothy concoction? Let me know what you think of the lavender.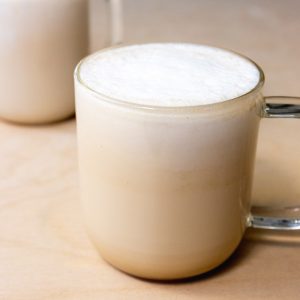 Lavender London Fog Drink (Earl Grey Tea Latte)
This is one of the tastiest versions of this Earl Gray drink you will find. It's extra creamy, flowery and foamed for good measure.
Print
Pin
Rate
Instructions
Steep the tea. Bring 3 cups water to a boil. Divide evenly in 2 mugs and add 1 tea bag to each cup. Move the tea bag up and down a few times. Leave the tea bags to steep; you will be serving the tea with tea bags inside.

Infuse the lavender syrup. Bring ½ cup water and granulated sugar to a boil. Add the lavender flowers and stir. Boil and steep until the sugar dissolves and the water is very aromatic, about 4 minutes. Strain the lavender syrup over a sieve over each mug, dividing the infusion evenly.

Froth the half and half. Rinse and return the pot to the burner and set to low heat. Add the half and half and immediately whisk until frothy and just warm. Pour half the foam over each cup and serve immediately.
Nutrition
Serving:
1
cup
|
Calories:
446
kcal
|
Carbohydrates:
56
g
|
Protein:
14
g
|
Fat:
19
g
|
Saturated Fat:
10
g
|
Polyunsaturated Fat:
1
g
|
Monounsaturated Fat:
6
g
|
Cholesterol:
57
mg
|
Sodium:
642
mg
|
Potassium:
593
mg
|
Sugar:
43
g
|
Vitamin A:
441
IU
|
Vitamin C:
2
mg
|
Calcium:
140
mg
|
Iron:
1
mg
Photography by Megan Johnson