You can't wing a gluten free cake and expect it to turn out. Gluten free flour blends are each unique and produce vastly different results. For that reason, it's better to trust a recipe (like this one) that call for specific ingredients.
**Update: After receiving an email from a reader, I retested this recipe and have concluded that I vastly prefer the texture when baked in 2 6-inch pans (as opposed to one 8-inch pan). I'm also linking to my absolute favorite white buttercream frosting and go-to chocolate gluten-free cake recipe.
Whether you are on a gluten free diet or not, this tasty cake is liked by everyone. It's moist and buttery, and has a nice crumb.
Not only does it taste like the real thing, it's the best looking cake (gluten free aside) I've ever baked. It holds together nicely for frosting. Just be sure to give your pan three solid taps before baking to release any air bubbles.
How to Use This Recipe for Cupcakes
Cupcake variation: Bake for 16 minutes. Yield: 12 cupcakes (fill them halfway with batter)
Frosting Flavors You Could Try:
coffee
vanilla
chocolate (dark or white)
strawberry
lemon
whipped cream with berries
Best Gluten Free Flours for This Cake
You need 5 flours to make this cake (gasp). I know. But before you go running for the hills, remember, your gluten free self/friend/sister/brother/mom/dad/wife/husband/child deserves to feel special too. Even if it means going that extra mile and buying a bunch of flours (no pun intended). Hey, at least we can store them in the freezer for next time:)

The Science Behind Making Gluten Free Cake Moist
These last 2 are less gluten free flours, and more gluten replacers. Basically, gluten stretches and creates springiness. Since gluten free cakes lack gluten, we add xanthan and guar gums to give the cake a springy quality. A little goes a really long way, but don't leave them out.
Speaking of moisture or the lack thereof — you will notice that many gluten free recipes require a ton of eggs. The protein in eggs is a very necessary transition when kicking gluten to the curb. But, in cakes, we can quickly get a dried out result. For this reason, I call for only 2 eggs and make up the leavening required with an egg replacer.
My egg replacer is just a chemical leavener: baking powder mixed with tapioca flour and potato starch. This combination of eggs and leavener really helps this cake bake to the proper height. A hot oven (don't you dare open that door) goes a long way too in a perfect bake.

For those of you who simply don't have the funds or time to mix your own blend, feel free to drop a comment below about your experience with a box brand. I'm sure we can all appreciate knowing which ones are the best.

Freezing Instructions
You can absolutely make this cake ahead of time and store it in the freezer. To do this, bake the cake and allow to cool completely. Then, wrap it tightly with plastic wrap (at least 2 layers to prevent freezer burn). Freeze for up to one month until ready to use.
Defrosting Instructions
It's actually really easy to frost a frozen cake. This is a trick I learned from a gluten free pastry chef. To do this, take the frozen cake out of the freezer and unwrap it while you make the frosting.
Place on a cake stand and apply the frosting. Work with an offset spatula to get a smooth, even layer or use a piping bag to decorate. The frozen cake will help keep the frosting firm until you're ready to serve it.
In my experience, I usually apply the frosting at home…bring the cake to the party…and by the time people are ready to cut in, it's had plenty of time to defrost.
Alternatively, you could move the cake to the fridge a couple of hours before frosting.
Top Frosting Tip: Apply a heaping amount of frosting to the top of the cake. This prevents crumbs from getting mixed in with the frosting. Work the frosting with an offset spatula while on the cake stand for an even layer on the top and sides.
Gluten Free Cake Pops
This recipe will yield an 8-inch cake or two 6-inch cakes, which can be used to form about 12 cake pops. To do this, mash the cake into uniform balls. The moisture from the butter will allow you to press the cake together — but you could mix in a little frosting to help things stick together more.
I only just made cake pops for the first time today using this recipe, and they were a success. I wrapped them with fondant, but it's hard to work with fondant and doesn't look great. Therefore, I'd recommend dipping the cake balls instead. This recipe has a step-by-step on how to dip the cake pops.
Prepare Two 6-inch Round Cake Pans or One 8-inch Pan
Prep: Rub your cake pan(s) with butter to prevent sticking and fit the bottom with parchment paper.
Fold a piece of parchment paper like a book. Fold again, bottom over top. Starting with the folded edge of the square, fold to form a triangle. Repeat. Use the pan to measure from the center to the edge. Cut and unfold for a perfect circle. (Note: this may take some practice).
Step-By-Step Process for Mixing the Gluten-Free Batter
Cream the butter until white (image 1). Add sugar and beat until fluffy (image 2). Note: I like to do this in a stand mixer fitted with a paddle attachment.
Add one egg. Mix. Then add the second egg. Mix again until smooth (image 3). Now, you've already whisked the dry ingredients. You just need to incorporate them all at once into the wet (image 4).
After mixing the dry ingredients to form a smooth batter, add the vanilla and milk. Beat just until smooth (images 5-6).
Best Pro Tip: Remove the eggs (in this case 2) and the butter (1 stick) at least 1 hour before mixing your ingredients. Room temperature ingredients along with a hot oven will give you consistently fluffy cake.

Time Management Tips
Make the Classic Gluten Free Flour Blend (5 minutes) – spoon each flour over the measuring cup and level off
Make the egg replacer (1 minute)
Make the xanthan and guar gum blend – literally just equal parts of each, whisked, then measured (1 minute)
Follow the recipe using a stand mixer (10 minutes)
Bake the cake (16-20 minutes)
Cool and Make Frosting (up to 1 hour)
Freeze or Frost the Cake (5 minutes)
Total Time: 1 hour 45 minutes
So there you have it. One tried-and-true cake recipe for all your gluten free parties. Try it with any frosting you like. Form it into cake balls or make it exactly like I did, funfetti style. I hope you love this cake as much as my family and bookmark it for all your special occasions.
More Gluten Free Desserts to Try
Troubleshooting Q and A
The center of the cake is still wet, should I keep baking?
Yes. Your oven may not be as hot as you think. I like to use an oven thermometer (inside the oven) to calibrate my oven for testing purposes. If your cake is still wet. Keep baking a few more minutes.
Why is my cake greasy?
Gluten free cakes tend to be a bit on the greasy side. That said, your cake shouldn't be very greasy. If it is, you likely used butter or eggs that were too cold. It's important to use room temperature ingredients in baking (especially with gluten free flours).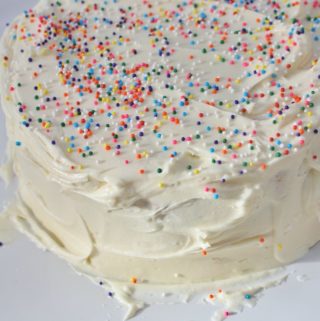 Gluten Free Butter Cake
Foolproof gluten free butter cake that's moist and as close to the "real thing" as it gets. Pleasant vanilla flavor for birthday cake. This cake can be made ahead and stored in the freezer.

Print
Pin
Rate
Ingredients
1

cup

Classic Gluten-Free Flour Blend

*see notes

1

tsp

egg replacer

*see notes

1/4

tsp

baking soda

1/2

tsp

baking powder

1/4

tsp

xanthan gum and guar gum blend

*see notes

1/8

tsp

sea salt

1

stick

room temperature butter

remove from fridge 1 hour prior to using

1/2

cup

granulated sugar

or finely ground coconut sugar

2

large

room temperature eggs

remove from fridge 1 hour prior to using

1

tsp

vanilla extract

2

tbsp

milk
Instructions
Preheat oven to 350°F. Rub butter around the inside of an 8-inch (or two 6-inch) round cake pan(s) and line the bottom with parchment paper.


Whisk the Classic Gluten-Free Flour Blend, egg replacer, baking soda, baking powder, xanthan and guar gums and salt together in a large bowl.


In a stand mixer fitted with the paddle attachment (or with a hand-held mixer), cream the butter until white, about 2 minutes. Add the sugar and continue to beat until fluffy.


Add the eggs, one at a time, mixing after each addition until smooth.

Stir in the dry ingredients. Then stir in the vanilla and milk until smooth.


Spoon the cake batter into the prepared pan and smooth the top. Tap the pan on the counter top to eliminate any air pockets.


Bake on the middle rack for 16 – 20 minutes for two 6-inch pans (17 – 20 minutes for one 8-inch pan) or until a cake tester comes out hot to the touch. Do not open the oven during baking.


Cool the cake in the pan for 5 minutes before inverting onto a cooling rack. Cool completely before frosting or wrap with multiple layers of plastic wrap and freeze.

Notes
The Frayed Apron Classic Gluten-Free Flour Blend:
6 cups white rice flour
1 cup tapioca flour, also known as tapioca starch
Spoon flour into the measuring cup, use a butter knife to scrape across for a level measurement. Whisk to combine. Then measure as recipe calls for Classic Gluten Free Flour Blend. 
The Frayed Apron Egg Replacer (Leavening Agent):
1 Tablespoon tapioca flour or cornstarch
1 Tablespoon potato starch or arrowroot
1/4 tsp baking powder
Mix ingredients, then measure according to recipe for Egg Replacer. 
Xanthan Gum & Guar Gum Blend
1 Tablespoon xanthan gum
1 Tablespoon guar gum
Whisk together to blend. Measure and use in recipe.
**Leftover flour can be stored in the freezer in a zip-locked bag.
For Cupcakes:
Fill 12 cupcake liners 1/2 way and bake for 16 minutes, until toothpick comes out clean and the cake is springy when touched.
Nutrition
Calories:
331
kcal
|
Carbohydrates:
38
g
|
Protein:
4
g
|
Fat:
17
g
|
Saturated Fat:
10
g
|
Cholesterol:
113
mg
|
Sodium:
268
mg
|
Potassium:
95
mg
|
Sugar:
17
g
|
Vitamin A:
575
IU
|
Calcium:
41
mg
|
Iron:
0.5
mg
Easy White Chocolate Buttercream
White Chocolate Frosting Ingredients:
2 sticks unsalted butter (room temperature)
1 cup powdered sugar
1 tsp vanilla extract
14 oz bag white chocolate chips (warm in microwave for 30 seconds, stir, and repeat until melted)
pinch of salt
Thank you for being here! Did you make this recipe? Click on the star rating or leave a comment below. I'd love to hear how you got on. Connect with me @thefrayedapron on Instagram or Pinterest.