I love a meat and vegetable breakfast combo, especially when it's this easy to make. You start this skillet frittata on the stove-top and move it into the oven for the best fluffy texture. Plus, it's easy to customize, and I've got some ideas for you to try.
Think of a frittata as your chance to use up whatever cheese, vegetables, or meat you have in the fridge. A little salt and pepper is all the seasoning you need, and you can't go wrong with some fresh herbs, too.
Frittata Combination Ideas:
feta, roasted bell pepper, sausage, and basil (this is the one I made)
ham, cheddar, and broccoli florets
mushrooms, Swiss cheese, and spinach
hatch green chiles, Jack cheese, and chorizo
If I've missed a combination you like, please drop it in the comments below!
How to Make a Frittata in a Cast Iron Skillet – Step by Step
To easily go from the stove-top to the oven, you need an oven-safe metal skillet, such as cast iron (10-inch is a great size).
If you've decided to include meat, you want to start with that because it will release fat that helps to season the skillet; this adds flavor and also prevents the eggs from sticking. As you can see (photos 3 and 4), the reason we are beginning the eggs on the stovetop is so we can partially cook them (like an omelet) before adding the vegetables and cheese.
When it looks like the eggs are somewhat cooked but still mostly liquid, that's the perfect moment to add your ingredients. While fresh herbs are entirely optional, I suggest adding them twice: before cooking and after as a garnish.
Even if cooking for one, this is a great technique for meal prepping breakfast for the rest of the week because leftover frittata reheats really well in the microwave.
Storing Leftover Frittata
I recommend slicing then refrigerating the leftovers in sealed containers, as opposed to covering the whole skillet. A cast iron skillet can impart eggs with a metallic flavor over time, and if you remove the eggs promptly, this is unlikely to happen.
Cast Iron Seasoning and Clean Tips:
When making eggs in a cast iron skillet, it's a good idea to wipe your skillet before cooking with a paper towel to see how much grease comes off. If it's quite black, I suggest rinsing the cast iron and scrubbing with a nylon sponge. You can then proceed by heating the skillet; this small step usually prevents food from turning black.
To clean your skillet, rinse it under hot water and scrub vigorously with a metal sponge. Metal is the best way to remove egg proteins that stick to the grooves of the metal. Once clean, reheat the skillet to prevent rust. If it looks dry, you can re-season with oil (note: I usually only need to do this about once per month). Allow a hot skillet to cool completely before storing.
More Recipes You Might Like: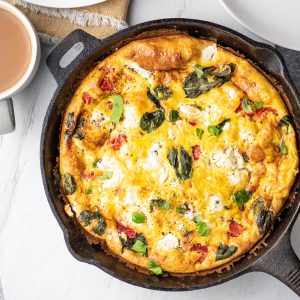 Sausage and Roasted Bell Pepper Frittata Skillet
This is hands down, the best way to make frittata. To start, you partially cook the eggs on the stove-top like you're making an omelet; just as the eggs begin to thicken, you add the roasted bell pepper and feta. Transfer the skillet into the oven and the eggs will puff up perfectly.
Print
Pin
Rate
Instructions
Preheat the oven to 425℉.

Heat a medium size (10-inch) oven-safe skillet over medium heat. Put the sausage links in the pan and use a spatula to break into pieces. Cook until the fat releases and the sausage begins to brown, about 3 minutes.

Meanwhile, whisk the eggs, whole milk, and salt together in a medium bowl.

Pour the egg mixture over the sausage. Next, use a spatula to stir and scrape along the bottom continuously. After about 2 minutes, the eggs should appear liquidy with some areas where the eggs have scrambled a bit. When you see this, add the bell pepper, feta, and a few torn leaves of fresh basil before the eggs have a chance to set.

Move the skillet into the oven and roast until the eggs are puffy and the center is no longer liquid, about 17 or 18 minutes. Allow the frittata to rest for several minutes, then use a spatula to cut and portion onto serving plates and garnish with basil.
Notes
Ingredient Tip: You can use either the jarred red roasted bell peppers or roast your own. To roast your own, I suggest placing a red bell pepper on a sheet tray lined with foil under the broiler. Within about 10 minutes, it will blister and blacken. You need to let the hot pepper steam inside a bowl with a plate on top for 10 minutes; this will allow you to easily remove the waxy skin with your fingers once the pepper is cool to the touch. Substitution Tip: If you can't find feta, you can also use mozzarella or goat cheese.
Nutrition
Calories:
219
kcal
|
Carbohydrates:
3
g
|
Protein:
16
g
|
Fat:
15
g
|
Saturated Fat:
7
g
|
Cholesterol:
352
mg
|
Sodium:
1114
mg
|
Potassium:
237
mg
|
Fiber:
1
g
|
Sugar:
1
g
|
Vitamin A:
1013
IU
|
Vitamin C:
18
mg
|
Calcium:
175
mg
|
Iron:
2
mg
Some of the links on this page are affiliate links, which may pay me a small commission for my referral at no extra cost to you!