Polenta (made from corn grits) can be served creamy like a porridge or firm. Of course, if you refrigerate polenta until firm, you should definitely do the extra step to get it crisp and golden. As polenta fries in oil in the oven or in a pan, it develops a chewier texture with stronger, more concentrated flavors with little pops of crunchiness. In this version, there's sundried tomatoes woven in, but you could easily add in garlic instead.
Stores typically sell polenta in a roll. Many people try it and don't like it because of the gelatinous texture. Well, that polenta is nothing like this one. When you make it at home, the texture is always creamier, more flavorful, and a great canvas for any herb you can think of. When I'm in need of a quick side dish, I start a pot of polenta because corn grits are always in my pantry.
Tip: When simmering polenta, it's always a good idea to keep a close eye on what's happening. Stir very frequently. Grits love to stick to the bottom of hot pans, where they can burn.
Another tip for making polenta? Use a lot of water. Corn grits triple in size as they cook, sucking up water like a sponge. When in doubt, always add more water. You can always cook off excess water via evaporation. So, rather than worry about over-cooking it…just focus more on cooking it enough.
How To Know When Polenta is Cooked
If serving polenta as porridge, there should be a soft texture with no grittiness. Unfortunately, it's impossible to provide cooking times for corn grits — I've seen different bags of corn grits cook at completely different rates at the exact same temperature. So, simply test the texture yourself to determine that it's fully cooked.
Firm Polenta
If you want to set the polenta into a solid state that's great for roasting or frying, then you need to continue to cook the porridge to evaporate excess water. It will thicken and may pop out of the pot and splatter you so stir frequently and turn off the heat if this happens. It will be done at that point anyway.
I like to pour the polenta while it's hot onto a baking sheet (for thin) or a casserole dish (for thick), then refrigerate. Once solid, polenta can be wrapped and stored for up to 1 week or used to make polenta fries or cooked until crunchy and chewy.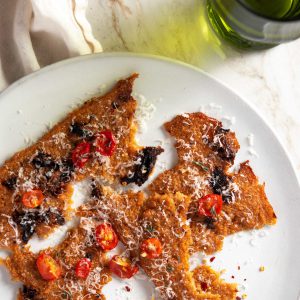 Crispy Sundried Tomato Polenta
Roasted until crispy and chewy, this polenta makes for a quick and easy side dish that's gluten free (vegan optional). Simmer the polenta with sundried tomato and serve as Italian porridge or refrigerate until solid for easier pan-frying or oven roasting.
Print
Pin
Rate
Ingredients
1

cup

polenta corn grits

4

cups

water

2

tsp

kosher salt

7

sundried tomatoes

chopped

1

tbsp

unsalted butter

or olive oil
Instructions
In a medium pot, bring the polenta, water, salt, and sundried tomatoes to a simmer and stir. Lower the heat to medium-low and cover with a lid – lifting every few minutes to stir. Cook time for polenta can vary; it's done when no longer gritty, approximately 30 minutes.

Stir in butter and continue to cook with the lid off to thicken the porridge. Serve soft or pour into a baking dish and refrigerate for a firm texture.

To roast the polenta, preheat the oven to 415°F. Brush the surface with olive oil and roast for 35-45 minutes, or until it reaches the desired level of crispiness around the edges. Serve with fresh herbs or shaved Parmesan.
Notes
Polenta is a versatile porridge that has a mild savory flavor that works well with virtually any fresh herb. Sprinkle with chopped garlic or red pepper flakes for a little kick. Since polenta roasting time depends heavily on the amount of moisture in the porridge and the thickness of the cake – please use the timeline as a guide. You want to roast it until you see some golden edges and can feel it getting crispy in parts.
Of course, you can always enjoy polenta as soon as it's cooked. There's no need to roast. Roasting is to create an interesting texture and can concentrate flavor where the olive oil fries bits and pieces of the corn grits.
Nutrition
Calories:
119
kcal
|
Carbohydrates:
22
g
|
Protein:
3
g
|
Fat:
2
g
|
Saturated Fat:
1
g
|
Cholesterol:
5
mg
|
Sodium:
790
mg
|
Potassium:
116
mg
|
Fiber:
1
g
|
Sugar:
1
g
|
Vitamin A:
135
IU
|
Vitamin C:
1
mg
|
Calcium:
8
mg
|
Iron:
1
mg
Some of the links on this page are affiliate links, which may pay me a small commission for my referral at no extra cost to you!