In this new converting cookies series, I spend the day baking and taste-testing using the principals of conversions. What I've learned though is that my perfect may not be yours, which is why I'd rather show you how to achieve what you want with your cookies in general.
When it comes to cookie characteristics, there are a few basic standards to consider: crispness versus softness, chewiness, and spread (or thickness).
Of course, there's always flavor to consider so if you love peanut butter, honey, and oats, then you're going to want to try these cookies for yourself.
Defining My Ideal Peanut Butter Oatmeal Fluffernutter Cookie
These cookies are pure nostalgia. They satisfy my inner child's love of fluffernutter sandwiches and oatmeal cream pies. With those standards in mind, I knew I wanted to achieve something soft and moist with a peanut butter – oat – marshmallow taste.
Healthy, Wholesome Goals
Little Debbie oatmeal cream pies and marshmallow fluff taste wonderful and all, but they really contain some stuff I try to avoid. For these cookies, I replaced many processed ingredients to make for a more wholesome cookie.
Unlike conventional recipes, these cookies contain coconut sugar and honey instead of brown sugar and high fructose corn syrup and peanut butter to remove half of the amount of butter. I also tested 2 kinds of oats (quick and old fashioned) and really preferred the texture of the quick oats.
What makes a cookie soft rather than crispy?
Compared to crispy cookies, soft cookies have a higher proportion of liquid in the dough, are lower in sugar and fat, and have a shorter baking time. Be careful when using syrups in cookie dough (your honey, maple syrup, rice syrup, corn syrup and molasses) because they have a tendency to absorb moisture (why these molasses ginger cookies have a bit of a crunch to them).
You can also alter the size for a softer cookie; large or thick cookies retain more moisture. If you're going for softness, you really need to consider storage. While cookies tend to be soft right out of the oven, open air can dry them out.
Pro Tip: Always tightly wrap or seal in a plastic bag to avoid dry and stale cookies.
All chewy cookies are soft, but not all soft cookies are chewy.
When you have high sugar and liquid, low fat, a high proportion of eggs, and a small proportion of flour/gluten – you get chewy cookies like these peanut butter brownie cookies. While brownie cookies are both chewy and soft, we all know that oatmeal cream pies are just soft (not chewy).
Hence, you'll notice how this recipe has a relatively high amount of flour and oats to eggs and a low proportion of coconut sugar and liquid. Compared to the brownie cookies linked above, there's also more fat proportionately from the peanut butter and butter.
Making the Cookies Spread
There are several ways to increase the spread of cookies. You can:
Increase the amount of sugar
Add more baking soda/powder
Cream the fat and sugar until light by incorporating air
Lower the oven temperature and adjust the cook time
Make a dough with a higher liquid content
Heavily grease the sheet pans or use a silicone baking mat
Now that you know the 3 characteristics of a cookie, you can start converting your way through any recipe. As I learned in culinary school, you always want to start by changing only 1 thing at a time in a recipe. Take notes and get clear about what you've done. If you don't like a result, you can always go back to a previous stage and try something else.
Hope you give these cookies a try. They're a fun, unusual cookie that the kids will love.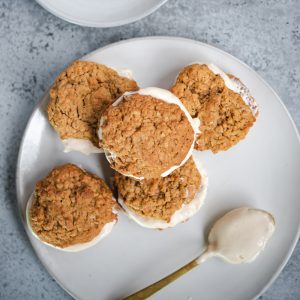 Peanut Butter Oatmeal Fluffernutter Cookies
Soft and moist, not-too-sweet peanut butter cookies are sandwiched together with homemade vanilla marshmallow cream to create a fluffernutter – oatmeal cream pie hybrid. Yield: 9 sandwich cookies
Print
Pin
Rate
Ingredients
For the Cookies
1/2

cup

smooth peanut butter

unsalted, unsweetened, stirred

½

cup

unsalted butter

softened

1 ¼

cup

light coconut sugar

2

large eggs

1

tsp

pure vanilla extract

1 ½

cups

all-purpose flour

reduce to 1 cup, 119 g

1

tsp

baking soda

½

tsp

fine sea salt

3

cups

old fashioned oats

need to increase liquid to increase softness – test 2 cups – 174g Want wetter dough. Quick oats
For the Cream Filling
¼

cup

filtered water

¾

cup

cane sugar

½

cup

honey

2

egg whites

1

tsp

pure vanilla extract
Instructions
Baking the Cookies:
Preheat oven to 350 degrees F. Line 2 half sheet trays with parchment paper.

In a stand mixer fitted with paddle attachment or in a large bowl with an electric mixer, cream together the peanut butter, butter, and sugar until light, about 3 minutes on medium speed. Add in eggs and vanilla and mix to combine.

While beating on low, add the flour followed by the baking soda, salt and oats until just combined to form a thick, wet drop-style dough.
Sizes and baking times:
Round then flatten the dough (¼ c each cookie). Bake 10 min for a light golden color. If you don't know the temperature of your oven: check the bottom of the cookies: if brown, reduce bake time by 1 minute, if the cookies don't firm up when cool, increase cook time by 1-2 minutes.

Allow cookies to cool completely while making the cream filling.
Making the Cream Filling:
In a small pot, heat the water, sugar, and honey over medium heat. Do not stir the mixture. Just allow the liquid to come to 240 degrees, 6 minutes.

Mix the egg whites until fluffy in a stand mixer fitted with a whisk attachment to form stiff peaks. Reward the syrup to 240 degrees, then Pour the syrup in a steady stream into the egg whites. Cream together until glossy.

Add the vanilla. Assemble the cookies when cool by placing a dollop of marshmallow fluff in the center of 2 cookies. Store in a sealed plastic bag in the fridge to prevent the cookies from drying out and assemble just before serving so the cookies don't get soggy.
Nutrition
Calories:
557
kcal
|
Carbohydrates:
91
g
|
Protein:
12
g
|
Fat:
18
g
|
Saturated Fat:
8
g
|
Cholesterol:
63
mg
|
Sodium:
401
mg
|
Potassium:
250
mg
|
Fiber:
4
g
|
Sugar:
48
g
|
Vitamin A:
368
IU
|
Vitamin C:
1
mg
|
Calcium:
32
mg
|
Iron:
3
mg
Some of the links on this page are affiliate links, which may pay me a small commission for my referral at no extra cost to you!